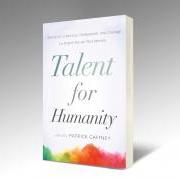 Stories of Creativity, Compassion and Courage to Inspire You on Your Journey.
Talent for Humanity's book is far more than a celebration of inspiring people and an anthem to creativity, love, courage and compassion; it is also an encouragement to push open the door to start our own journey. Many millions have the desire to do so but lack that little bit of extra courage to start. The Talent for Humanity stories are inspiring, engaging, and entertaining. They show us that each human being possesses the talent and ability to be the person he or she dreams to become, to open his or her heart to others, and be a dynamic, creative contributor to our society.
The book is under the supervision of Patrick Gaffney as Editor and co-author, the stories of the Talents have be written by bestselling authors with the support of the Talent for Humanity Circles.
The book is now available in bookstores throughout the USA, on all the online platforms below as well as all digital formats includingBookbaby. Thank you in advance for your support as we would appreciate you sharing this with your family and friends.
Amazon USA, Barnes&Noble, Amazon Canada, Amazon India, Amazon UK,Amazon Germany, Amazon France, Amazon Spain, Amazon Italy, Amazon Japan, booktopia Australia, bokus Sweden, and many more.