Daniele Finzi Pasca

Human Spirit Award
2014 Talents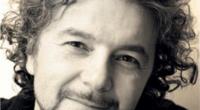 Daniele Finzi Pasca on :

Daniele Finzi Pasca
Daniele Finzi Pasca grows up in a family of photographers, in his father's darkroom, also used by his grandfather and great-grandfather before him. Daniele is introduced to the circus world through gymnastics; later, under the guidance of a clown named Fery, he sets foot on stage for the first time.
In 1983, Daniele leaves for India where he works for a volunteer program helping the sick in terminal stage. Upon his return to Switzerland, he founds Teatro Sunil, company where he develops a vision of the art of clowning, dance and acting along with Maria Bonzanigo and his brother Marco. They call this theatrical technique "theatre of the caress".
Read more...
VIDEOS OF DANIELE FINZI PASCA
PHOTOS WITH DANIELE FINZI PASCA